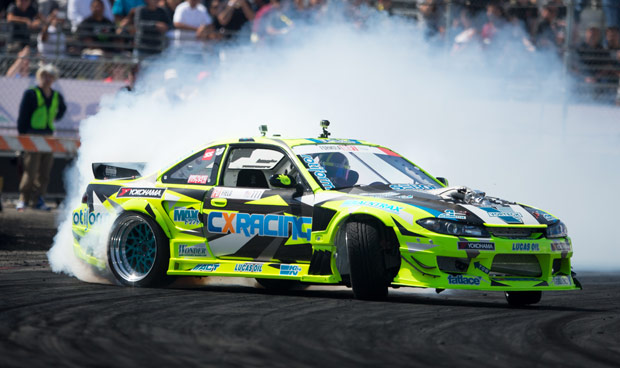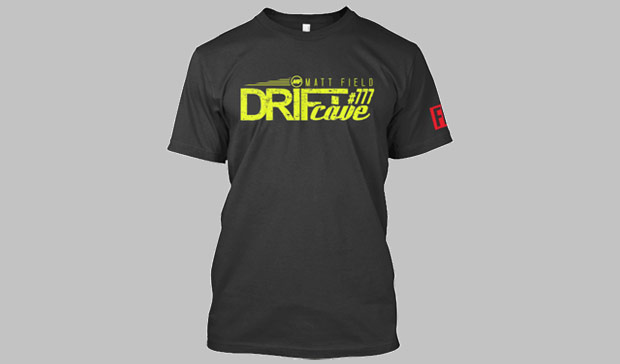 Matt Field X Formula Drift
Matt Field official FD shirts. Limited time only, get yours now! Men's and Women's fits - hoodies, too. Ships worldwide. Click to purchase!
Drive hard
Matt Field was exposed to competitive level motorsports at a very young age riding Honda ATV's at the age 4, BMX at the age 5 and 1/4 midget racecars at the age 8. Before legal driving age, he raced competitively as the co-driver of his father's off-road race truck. To date, this father/son team has brought home over 30 wins and 4 championships. You can say Matt Field thrives off of all forms racing and continues to improve his skill set in all forms driving. By legal driving age, Matt's focus was all about drift. He competed in various grassroots venues and ultimately earned his Formula Drift license through the Just Drift series in 2009. Not only is he an engaged racecar driver but Matt has also dedicated his career diversifying himself in multiple facets of racing; honing his skills as an excellent technician, fabricator, engine builder, driver and team owner. Matt piloted his SR20DET swapped purple S13 hatchback for his inaugural rookie year at Formula Drift 2010. A grassroots driver on a shoestring budget, he could afford to compete in only the West Coast events. Given the challenge, Matt showed us a glimpse of what he was capable of and qualified Top 32 at Vegas and Sonoma and earned a spot within the Top 16 at Irwindale. The combination of his aggressive initiations and "Big Wing", Matt caught the eye of fans, sponsors and media alike. This was his year to learn the ropes of the world of professional drifting. In 2011, Matt returned with a new enthusiasm, determination and a new LS1 swapped S14. His bright yellow livery was infamously labeled as the Retina Burning Yellow S14, indicative of his intoxicating personality and aggressive driving style. His renewed partnership with BlackTrax Performance and the financial support of some key people gave him the opportunity to commit to run all seven Formula Drift events. He qualified Top 32 in five of them, a Top 16 in New Jersey and finished 12th at Long Beach. Matt wrapped up his season with a respectable 19th spot ranking. Last year brought about big changes in Matt's racing program. He managed his team, new sponsors, all while carrying a full load at San Jose State University School of Business. Matt's title sponsor, CX Racing came on board and offered Matt the opportunity to build his V8 at home. Although he was not sporting his infamous "retina burning yellow" livery, he continued to impress with his driving skill placing consistent Top 16's and 2 Great 8 finishes. Who will ever forget 2012 Irwindale, Matt Field vs Diago Siato elimination rounds where he came so close to eliminating the 2012 champion in the final round with two One More Time rounds. That evening the crowd went wild, stomped the stands and the news buzzed around the world! Matt reminds himself daily that he started his career through grassroots racing. He is proud to be an advocate in drifting, giving back to local organizations, Formula Drift and his sponsors by offering driving instruction, event judging and car setup advice. In 2013 Matt was able to get on the podium for the very first time. With his 2nd place finish at Texas Motor Speedway, and 7th place overall finish in the 2013 seasons points, Matt will push even harder for a better result in 2015. What is the outlook for 2015? Matt is accelerating his drift program with an intense dedication as a motorsport professional. His sponsors have supported his efforts with a new LS3 stroker motor. A new partnership with Vortech Engineering will aid the LS3 with boost, and a new partnership with Yokohama Tire. Matt, his team and family have been working non-stop over the off-season to deliver you a new look, and the performance to back it all up.

NAME - Matt Field
AGE - 25
HEIGHT - 5'8"
WEIGHT - 155
EYE COLOR - Blue
HAIR COLOR - Brown
NATIONALITY - USA
NICKNAME - Mofo
HOMETOWN - San Jose, CA
RESIDENCE - San Jose, CA
LANGUAGES - English
OCCUPATION - Driver/Fabricator