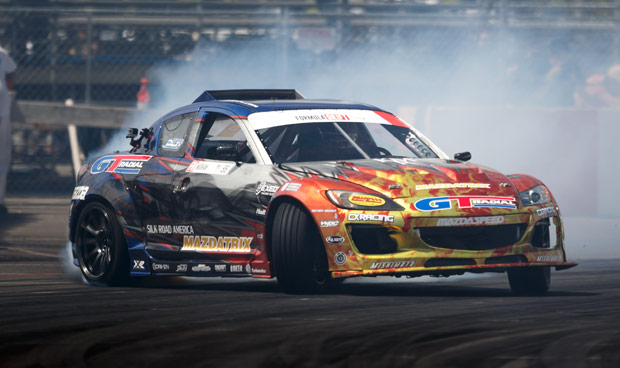 Spinning triangles straight out of Long Beach CA
Kyle Mohan has been at ground zero of America's discovery of drifting since it first landed on these shores. In those first few seconds he watched a car sliding sideways across the track, tires smoking and engine screaming, Mohan decided to combine his love of rotary-powered Mazdas with this new phenomenon.

Mohan is a former guitarist in a rock band, R/C car champion, Redline Time Attack champion, and a Two-time winner in the Long Beach Team Drift Challenge.

With this three-rotor Mazda RX-8, Mohan will represent GT-Radial as it enters the Formula Drift Pro Championship.

NAME - Kyle Mohan
AGE - 33
HEIGHT - 5'11"
WEIGHT - 170
EYE COLOR - Blue
HAIR COLOR - Brown
NATIONALITY - USA
NICKNAME - Menace
HOMETOWN - Long Beach, CA
RESIDENCE - Long Beach, CA
LANGUAGES - English
OCCUPATION - Driver, Engine Builder, Team Owner