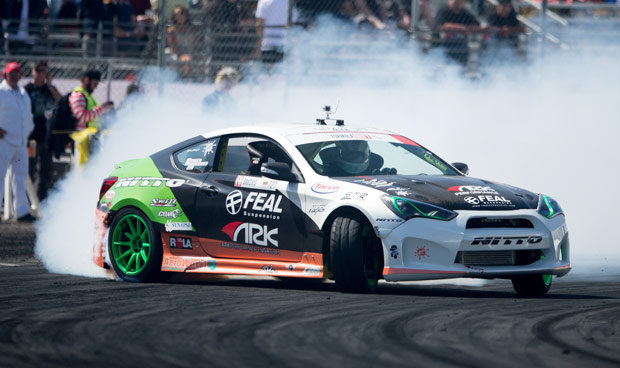 Yes, my name is difficult to pronounce. Just call me Odi.
Odi has been intrigued by motorsports for as long as he can remember. Moving to the US from Lithuania when he was 8 years old, Odi was already familiar with the racing lifestyle since he had watched his father professionally race hydroplane boats in the European championship. Odi raced motocross in California, experimented with his own motorcycle suspension, and then opened a motorcycle suspension company. Using his engineering and technical skills, he then started to explore various automotive hobbies from building custom four-link suspension systems to fabricating air-ride body-dropped sleds. After college he raced rally cars and expanded Feal Suspension to offer automotive suspension solutions.

After a friend brought him to a local drift track in 2009, Odi purchased a Nissan S13. He decided to try drifting since he found it challenging and was intrigued by the ability to express driving style. In 2010 Odi earned his professional license through two ProAm series during his first season of competitive drifting. Odi was awarded honors as the 2011 Formula Drift "Rookie of the Year", finished the 2011 and 2012 seasons as a Top 16 driver, and the 2013 season as a Top 10 driver in the Formula Drift series. Odi finished 4th overall in the 2014 Formula Drift season, with a second place event finish in Texas and a third place event finish in New Jersey. Odi is eager to continue to grow as a successful driver in the sport and consistently rise to new challenges.

NAME - Aurimas Bakchis
AGE - 31
HEIGHT - 5'10"
WEIGHT - 155
EYE COLOR - Blue
HAIR COLOR - Brown
NATIONALITY - Lithuania
NICKNAME - Odi
HOMETOWN - Kaunas, Lithuania
RESIDENCE - Wrightwood, CA
LANGUAGES - English, Lithuanian
OCCUPATION - CEO, Feal Suspension, Inc.