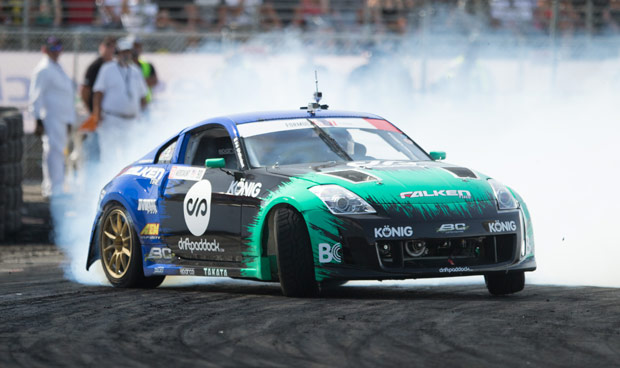 Pat Mordaunt goes all out for his 10 year celebration in drifting
Pat Mordaunt began his career in 2005 at the age of 14 in grassroots and ProAm and his first full season in Formula Drift's Professional series in 2008 at the age of 17. In his 10 years in drifting and racing Pat has driven in China in the World Drift Series, Formula Drift Mexico, Japan in the D1 Grand Prix, Redline Time Attack, and received the invite to the inaugural Ken Block Gymkhana Grid Invitational in 2010 along with his full time career in Formula Drift. For 2015 Pat looks forward to joining Tyler McQuarrie Racing and his world class drift team. Title sponsorship will be through DriftPaddock.com and Pat welcomes partnerships from Konig, Falken, Sparco, Parts Shop Max, Brian Crower, and Newport Pacific for the 2015 season.

NAME - Patrick Mordaunt
AGE - 24
HEIGHT - 5'11"
WEIGHT - 175
EYE COLOR - Green
HAIR COLOR - Brown
NATIONALITY - USA
NICKNAME - Pat
HOMETOWN - Westchester, CA
RESIDENCE - Redondo Beach, CA
LANGUAGES - English
OCCUPATION - Driver