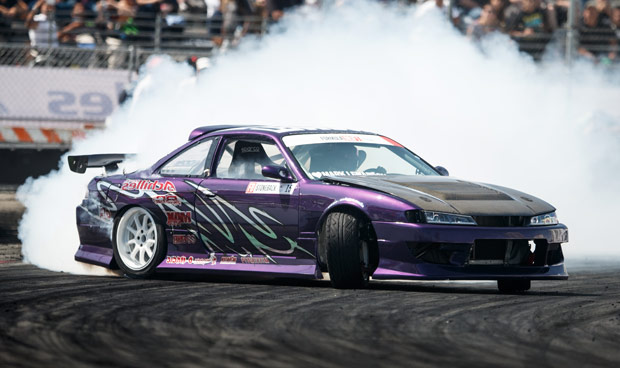 2014 Fomula Drift Rookie Of The Year
Geoff found drifting through his high school friends. He soon bought a Nissan S14 and started drifting. After many crashes and parts replaced, Geoff Found the best grassroots events in the world, Club Loose. Since 2008, Geoff has been going to Club Loose religiously, and honing his skills there with some of the best drivers in the world.

In 2012, Geoff Competed in the Midwest Drift Union, finishing in 5th place with attending only half of the events. In 2013 he set to conquer both the Midwest Drift Union and also his local Pro Am series, U.S Drift, where he would win both championships in one year. In 2014 Geoff won Rookie of the year in Pro 1 and had a hard fought battle for the Pro 2 championship, unfortunately loosing it in a borrowed car by 5.5 points. For 2015, Geoff has set out to bring some style back into Formula Drift with his aggressive looks and driving.

NAME - Geoff Stoneback
AGE - 28
HEIGHT - 5'5"
WEIGHT - 160
EYE COLOR - Brown
HAIR COLOR - Black
NATIONALITY - South Korea
NICKNAME - Stone Cold Stoneback, J-Wang
HOMETOWN - Allentown, PA
RESIDENCE - Philadelphia, PA
LANGUAGES - English
OCCUPATION - Mechanic