If you live in Southern California and are into motorsports, you know that safe and legal facilities to drive your car to it's limits have become scarce over the past 10-15 years. Thursday Night Drift at the Irwindale Event Center is kind of a big deal to us. For all the young readers, let me explain why.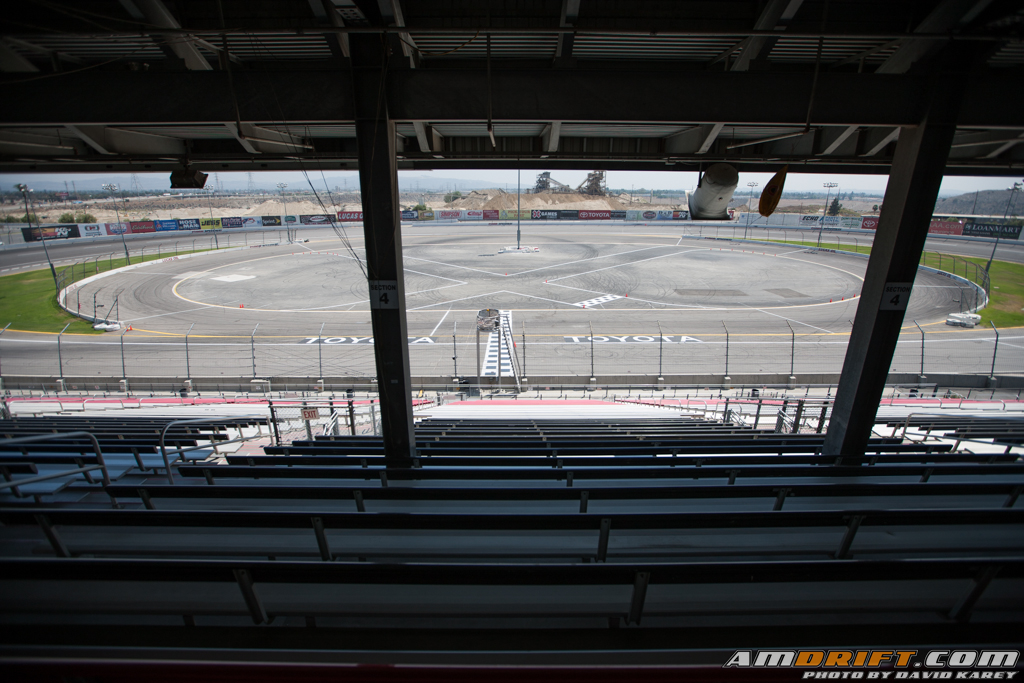 Many years ago, Southern California had plenty of legal places to race. A few of those places were Los Angeles County Raceway in Palmdale, Lions Drag Strip in Wilmington, Carlsbad Raceway in Carlsbad, Brotherhood Raceway on Terminal Island, and even a really cool track most of us never had a chance to see, Riverside Raceway. Some of you might even remember Ascot in Gardena, but that memory is almost reserved exclusively for old timers, lol. Many of these were closed and gone before drifting became popular, but we the people who live the drift life have suffered our own losses over the past 10 years. "It used to be a racers paradise here", says Mike Kojima during one of our discussions of Southern California motorsport venue history.Auto Club Speedway in Fontana terminated the privilege to hold drift events in the parking lot, unless you are some huge corporation with gobs of money, then its ok. Heck, even drag racing itself has been off and on at AutoClub Speedway. Drifting died at Orange Show Speedway, aka National Orange Show Speedway, drift activities have come to a halt at the former Marine Corps Air Station in El Toro, etc. There are just too many motorsport venues to name that we've lost with urban growth and ignorance to blame.
Due of the lack of available local motorsport venues, street drifting has become as popular as street racing was back when the first Fast and the Furious movie was released. As cool as it may seem in the media, street drifting isn't considered an acceptable form of seat time on the professional and amateur level, but the availability of industrial backroads in the LA area have drivers who have never been to an organized event, looking like experienced ProAm drivers.
To gain seat time and experience going sideways, one has to drive far out of the LA area to attend a Just Drift event at Willow Springs Raceway in Rosamond, right outside Lancaster, CA. For those looking to get more, Vegas Drift holds regular events at Las Vegas Motor Speedway. The cost and time of traveling to and from, sometimes isn't an option for most looking to get seat time. Sometimes a driver would like to get off work for the day, and go drifting. Traveling just doesn't make sense to the average guy.
We are excited that Formula Drift has teamed up with Irwindale Event Center to bring the LA area a great opportunity to drift at The House of Drift. On select Thursday evenings, the oval that FD Round 7 runs every October, plays host to Thursday Night Drift. Everybody is invited to drive, from first time drifters, to pros looking to hone their skills on the FD layout. It is definitely worth noting that FD staff who come out to run this event, are doing so because they love drifting.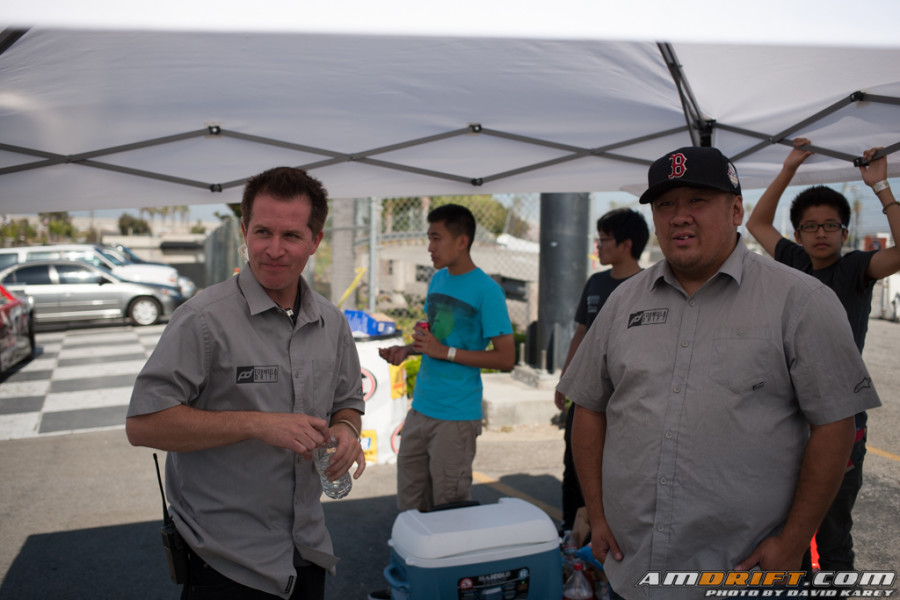 At $100 to drive, Formula Drift will tech your car, give you a chance to show your skill by running a simple layout, put you in a run group, and let you drift all night. You get to interact with Formula Drift staff in a relaxed environment, learn more about your car and what professional drift organizations are looking for in terms of build, safety, and driving, and most importantly, hang out and have a good time. The best thing about all of the above, is that you don't have to drive hundreds or thousands of miles to do it.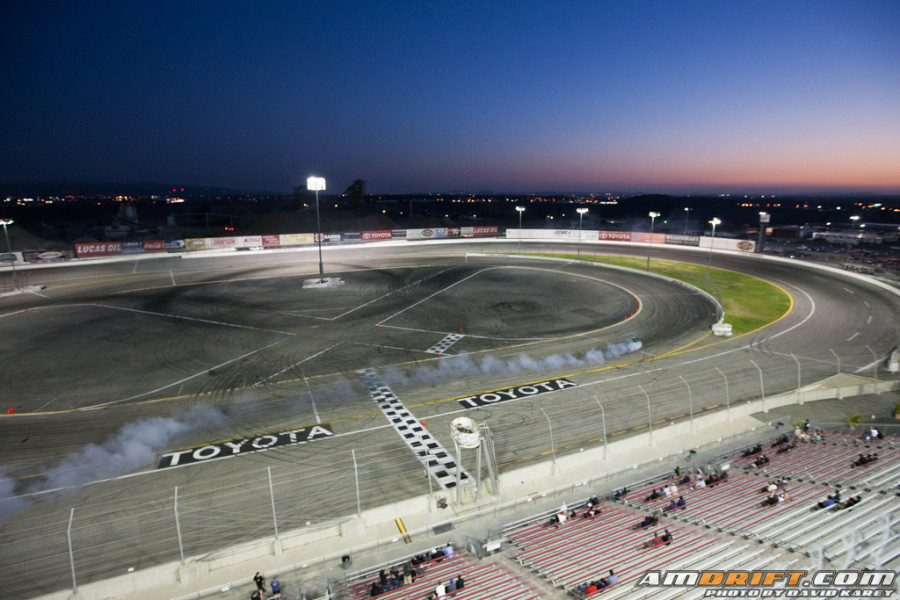 Spectators pay $10, which gets you a seat in the grandstands, and an opportunity to enjoy a California sunset while watching some drifting. For an additional $5, you can make your way over to the drag strip and enjoy some straight line racing too. Such a great opportunity for a night of motorsport fun.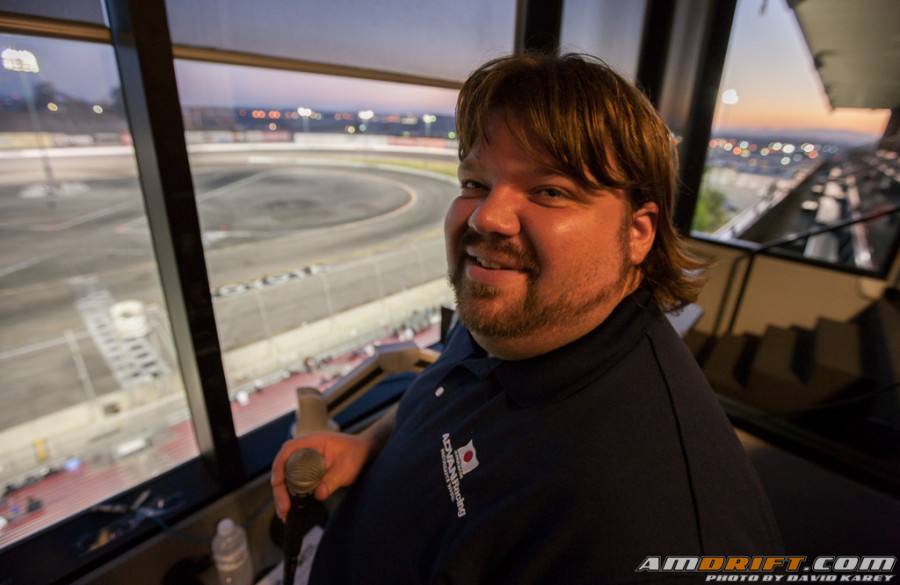 Our friend Justin Banner is the voice of Thursday Night Drift. Justin has been announcing for Top Drift and Vegas ProAm this year, so its awesome that he was able to land the announcing job for these events. We are all about the growth of everybody involved in drifting, and Justin is absolutely enthusiastic about the sport.